Description
Edit
Mr. Safe likes to be safe. He runs around with lots of reflective tape and other things to make him easily noticeable and safe. He also drives a race car at the race car race and it is not a pleasure to watch. He drove at an average speed of about 1.7 mph for the entire race. Phil Ming filmed it.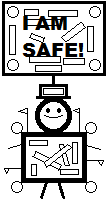 Mr. Safe's Safety Precautions
Edit
large noticable cardboard safety pads
lots of reflective tape
signs
flashing lights
flags
speakers and sirens
Relevance
Edit
Ad blocker interference detected!
Wikia is a free-to-use site that makes money from advertising. We have a modified experience for viewers using ad blockers

Wikia is not accessible if you've made further modifications. Remove the custom ad blocker rule(s) and the page will load as expected.